ANLAN LED Face Beauty Mask
Functions
1. Tri-color LED light therapy (full face)
Red LED: 640 ~ 650nm. The deepest part of the LED light reaches the dermis, activates skin elasticity, and resolves skin wrinkles.

Blue LED: 445 ~ 450nm. It can remove the propionic acid bacteria that cause acne and has anti-inflammatory effects. They inhibit the excessive secretion of sebum, make the skin less prone to acne.
Yellow LED: 575 ~ 590nm. It improves spots and dullness caused by aging and ultraviolet rays, restores skin glow.

2. 42 ℃ eye warming function/vibration massage
Convenient vibration makes it easy to remove trash trapped around the eyes.
Heating at about 42 ° C makes the eyes more comfortable. In addition, the soft material and the 3D eye mask significantly reduce the pressure while wearing.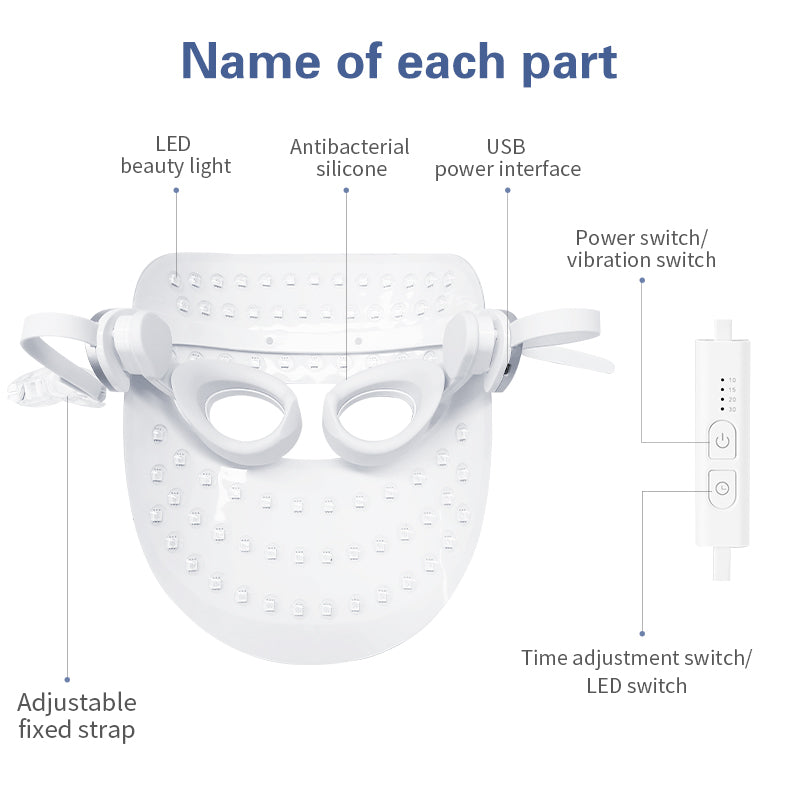 Instruction of LED mask:
1. Clean face
2. Put on the mask and plug it into the adapter
3. Long-press power button to turn it on, then the short press power button to start heated vibration
4.Long-press the clock button to choose the color of light
5. Short press clock button to choose the timer
6. We suggest you use altogether no more than 30 minutes
7. After finishing LED light therapy, apply some moisturizer gel and other skincare products
Technical data
Size: 200 * 196 * 135mm
Number of LED lights: 76
Material: ABS / PC / stainless steel
Input voltage: 5V = 1.8A
Power: 9W
Timer time: 5 minutes, 10 minutes, 15 minutes, 20 minutes
Packing list:
USB remote control * 1
User manual * 1
LED face mask * 1