ANLAN Low Noise Waterproof Ultrasonic Skin Scrubber
ANLAN IPX5 Waterproof Light Therapy Low Noise Ultrasonic Skin Scrubber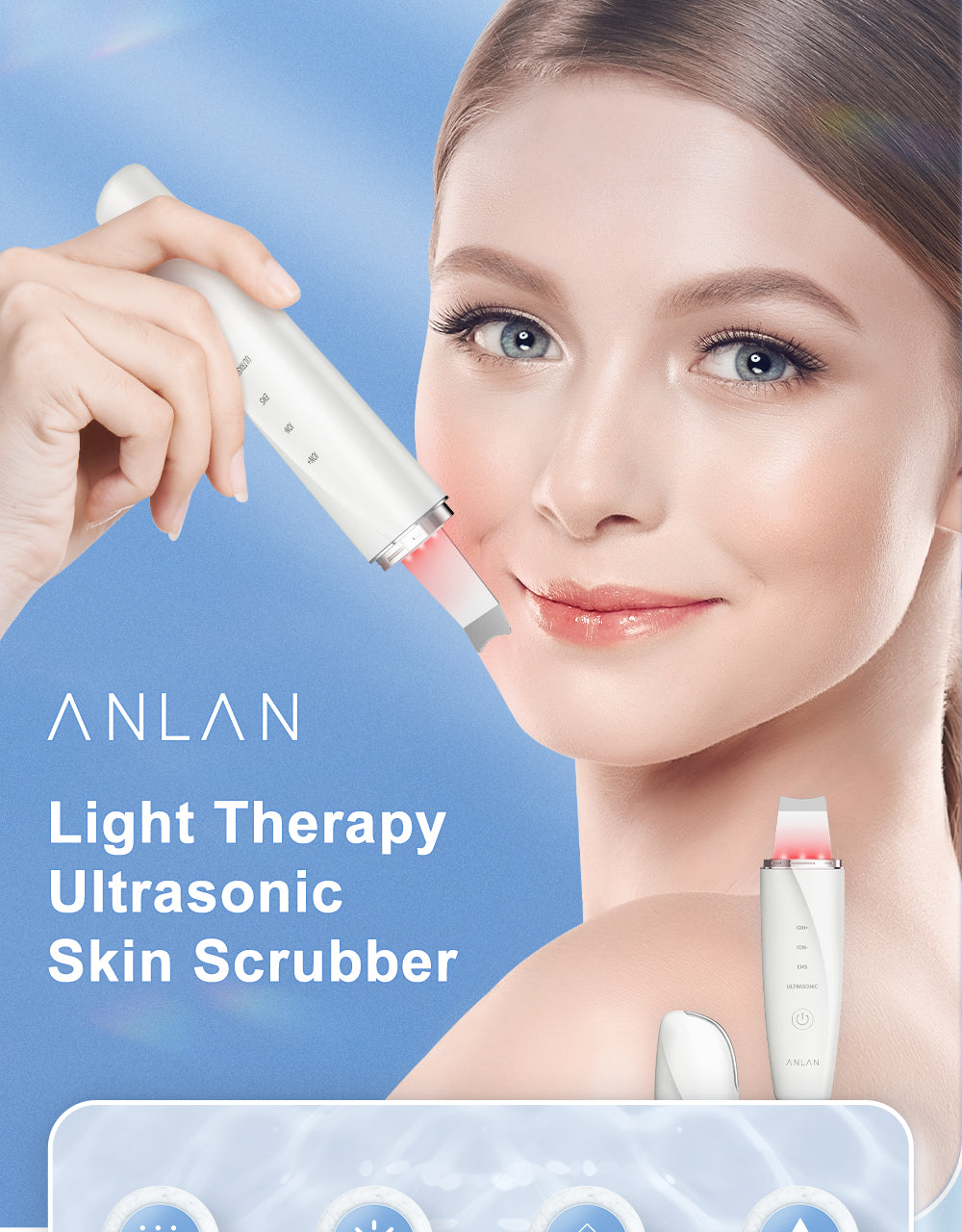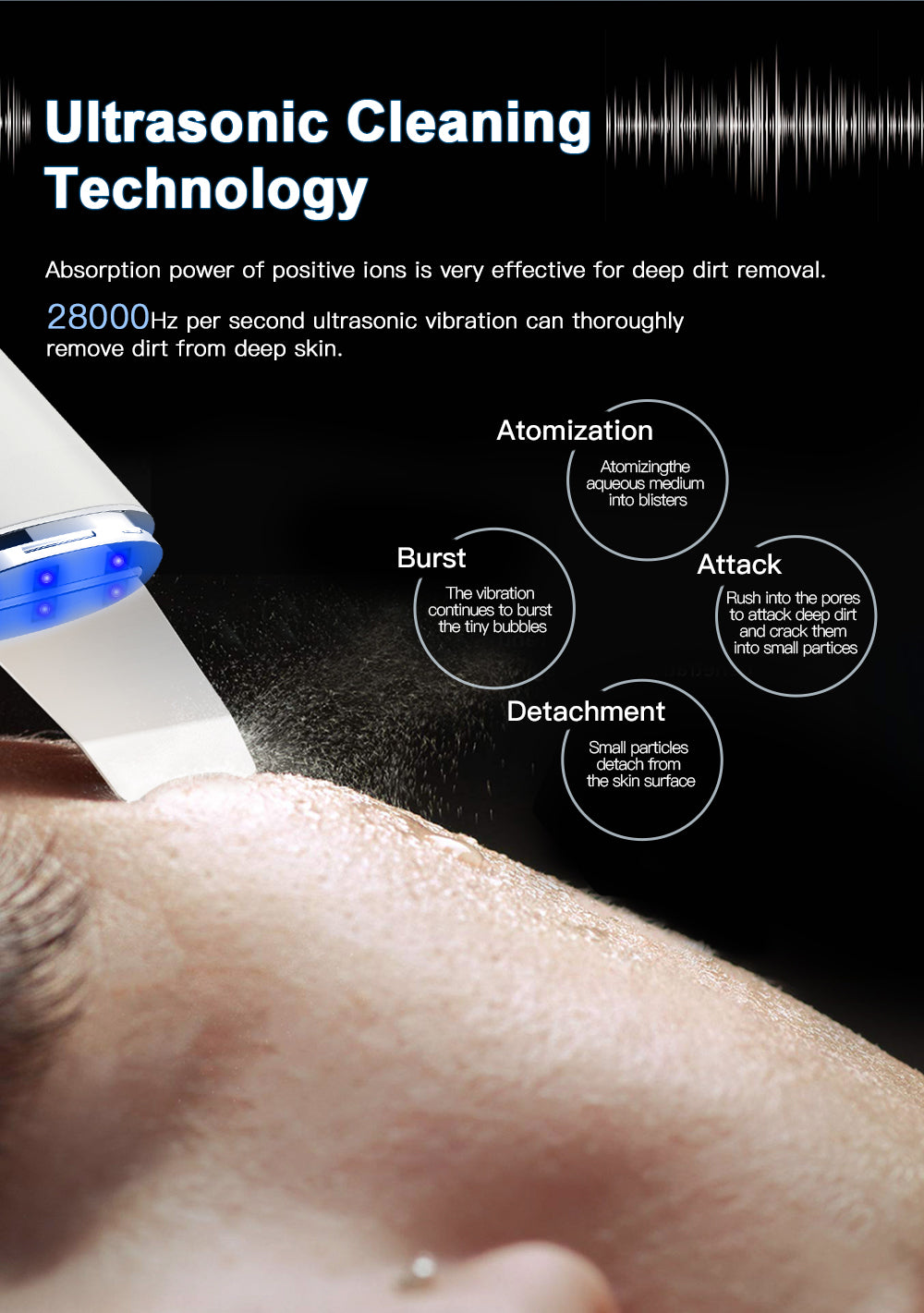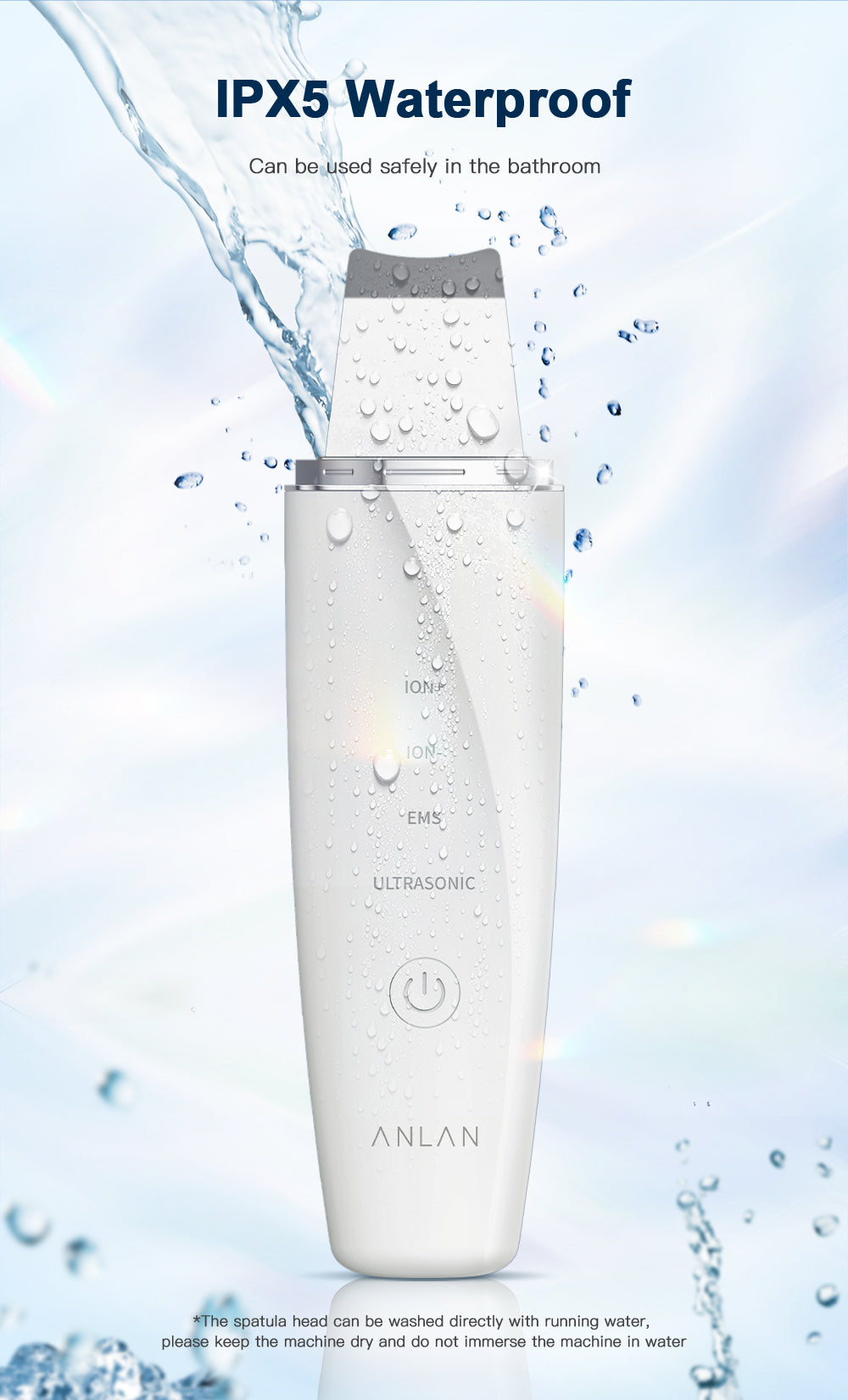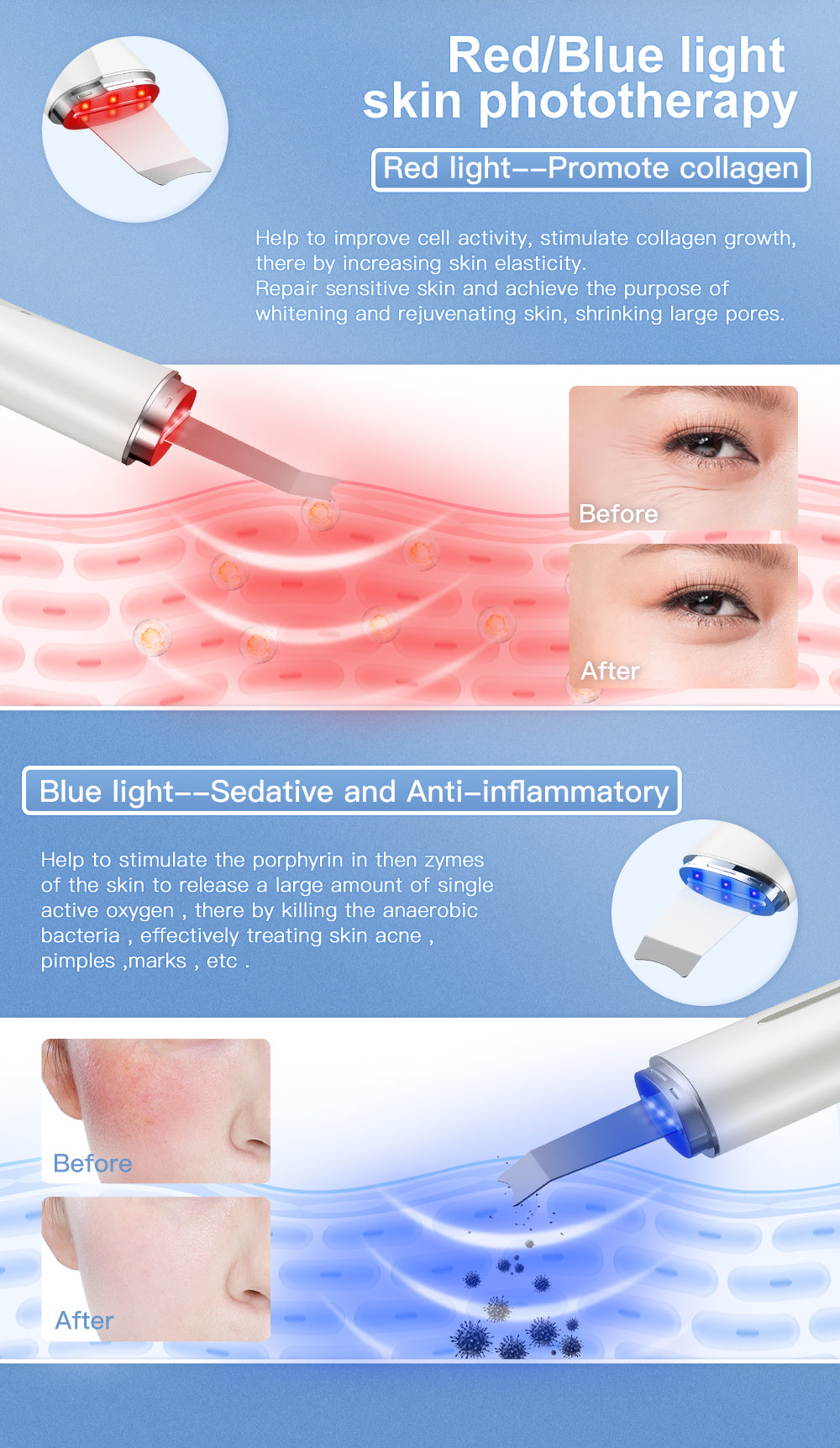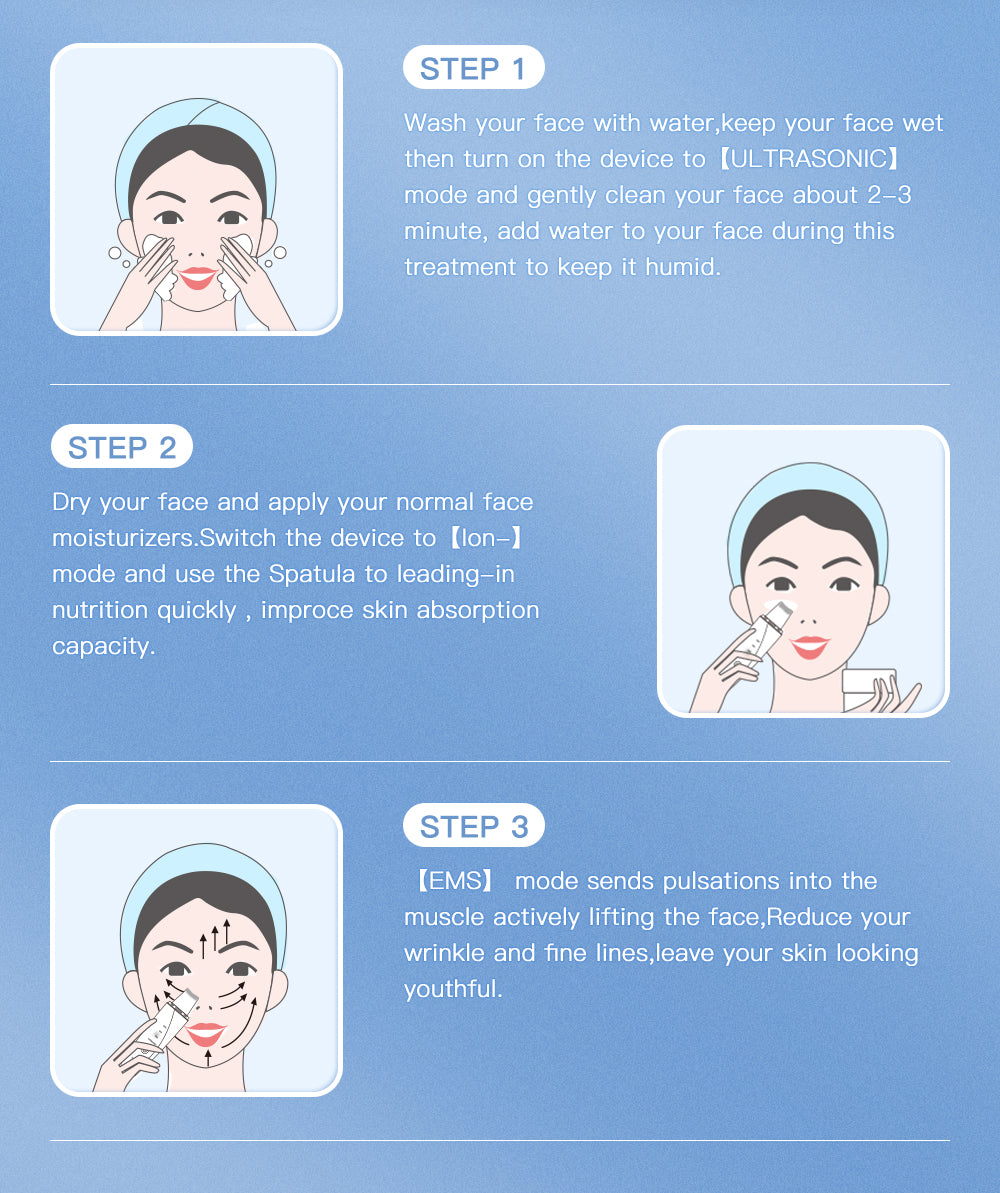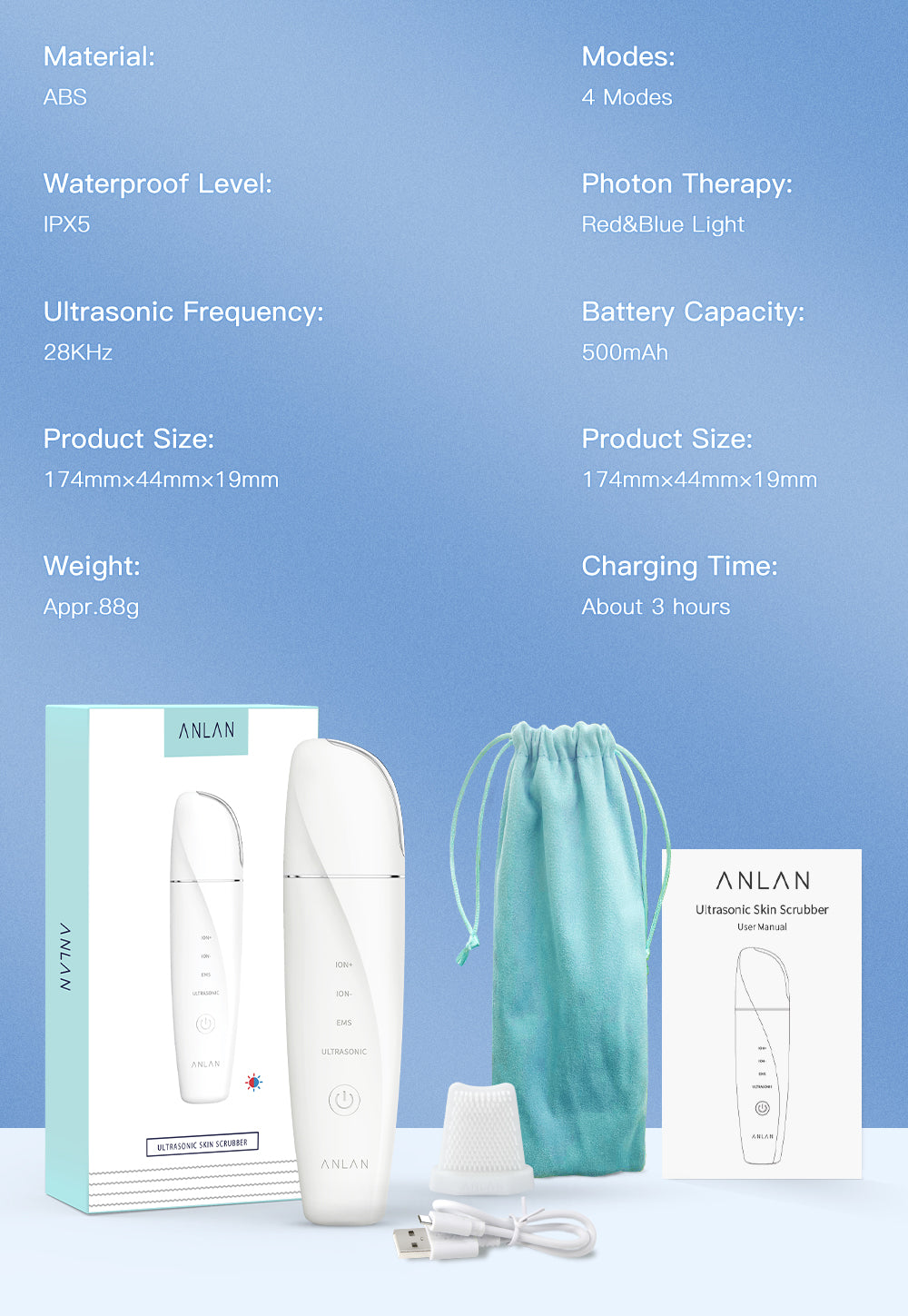 ① Ion Cleaning:Ion+ deep export cleaning + Blue light
--Absorption power of positive ions is very effective for deep dirt removal.
② Moisturizing:Ion- import moisturizing + Red light
--Help your skin absorb skin care products deeply,deliver necessary skin care ingredients.
③ EMS Lifting:Micro current+Red light
--Tighten the skin,through the weak current stimulation, the skin can be activated, swelling, wrinkles and lifting can be improved, so as to achieve the purpose of regain youthful skin.
④ Ultrasonic cleaning:Ultrasonic skin cleaning + Blue light
--28000Hz per second ultrasonic vibration can thoroughly remove dirt from deep skin.
⑤ Red/Blue light skin phototherapy
--Red light--Promote collagen
--Blue light--Anti-inflammatory and sedative
⑥ IPX5 Waterproof:Can be used safely in the bathroom.
How to use ultrasonic skin scrubber

STEP 1
Wash your face with water,keep your face wet then turn on the device to【ULTRASONIC】mode and gently clean your face about 2-3 minute add water to your face during this treatment to keep it humid.

STEP 2
Dry your face and apply your normal face moisturizers.Switch the device to 【Ion-】mode and use the Spatula to leading-in nutrition quickly , improce skin absorption capacity.

STEP 3
【EMS】 mode sends pulsations into the muscle actively lifting the face,Reduce your wrinkle and fine lines,leave your skin looking youthful.
Product details

Name: Ultrasonic Skin Scrubber
Material: ABS
Waterproof Level: IPX5
Ultrasonic Frequency: 28000Hz
Product Size: 174mm×44mm×19mm
Weight: Appr.88g
Modes: 4 Modes
Photon Therapy: Red&Blue Light
Automatic Power Off: 5 minutes (No operation)
Battery Capacity: 500mAh