Written article review credit to @Michelle Whitney (https://chic-living.blog/)
My under eye area has always been an issue for me, I've suffered from extreme dark circles from a young age (unfortunately it's probably hereditary, thanks parents!) they make me look tired even though I get a good 8 hours every night, and now I'm getting older I am paranoid that they will age me further. I had tear trough fillers a few months ago, in the help that this would reduce the dark circles, but because they are caused by pigmentation dermal fillers can only help to a certain extent. I was happy with the results, my under eye area looks brighter, and the skin looks tighter. That being said, I am always on the look out for any creams, potions or technology which can help!
I've kindly been gifted this intelligent eye massager from ANLAN which uses high frequency vibrations to tighten the under eye skin, and the device uses LED lights to increase blood circulation and product absorption. The massager also features adjustable temperature which ranges from 38 – 45 degrees Celsius, creating a relaxing and warm sensation under the eye.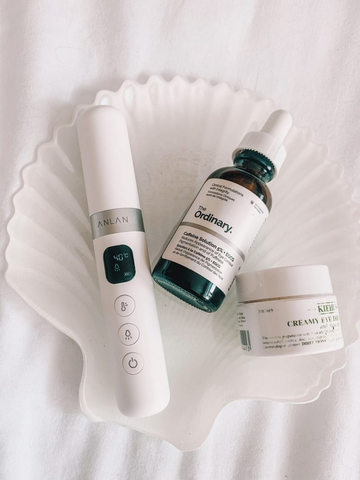 HOW DOES THE PRODUCT PERFORM?
The product itself feels really luxurious, I especially like the LED and temperature gauges. There are three different LED lights available, which work to target different ailments. The Red LED light is used to combat ageing; it uses light therapy to stimulate the production of collagen which will tighten the skin and help to reduce any existing wrinkles. The Blue LED light aims to reduce puffiness – especially good for tired eyes. And finally, the Yellow LED is used to soothe the under eye area, so you could opt to use this after any treatment to reduce redness.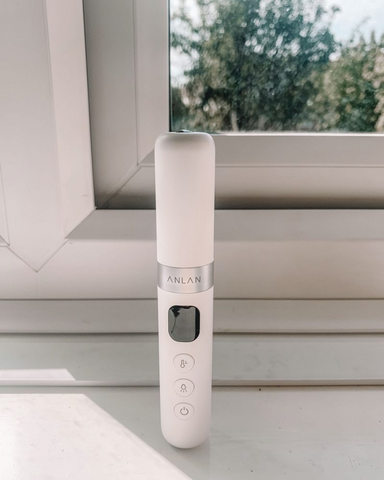 Initially I love the idea of using light and vibration therapy to improve my under eye area. I have used the massager now twice, and both times I enjoyed using it – the combination of vibrations, light and temperature therapy is very soothing both to the touch, and to the skin itself. Whilst using the device, I did find it drags a little if you don't apply a moisturiser – this could be due to my under eye skin being dry though. And of course, after using the device you should still continue to use your usual under eye cream and you will find it absorbs much easier into the skin.
I think this is a brilliant device which can be incorporated into your self care routine – as often we forget about the under eye area when it comes to facial treatments. But investing in a technological device such as this, as well as a decent eye cream could knock years off you!